✓ No hassle easy dumpster rental
✓ Servicing Raleigh, North Carolina
✓ Get a quote now, call 984-205-8064
✓ Customer friendly service
✓ Fast delivery and pickup
✓ Satisfaction guaranteed
Welcome to Raleigh Dumpster Rental King – the best dumpster rental service provider in Raleigh, North Carolina.
We take pride in giving quality dumpster rental services to all residents of Raleigh and the neighboring cities at a reasonable cost. We are driven by our ultimate goal of providing excellent service to our customers, so that waste removal is a no hassle job for them. We always go the extra mile as we want to make sure everyone is pleased with the quality of our cleaning services.
We aim to provide affordable, trustworthy and useful dumpster rental services in Raleigh, NC. Our services in Raleigh are available for homeowners, businesses and contractors on a temporary or permanent basis.
Here are the types of dumpster rental services that we provide:
General Waste Temporary Roll Off Services
General waste temporary dumpster rentals are perfect if you are looking for disposal of a large amount of debris in a short time. Many clients who are seeking services are homeowners who are cleaning up their homes and yards or renovating their house. This type of service is also helpful for contractors disposing of the wastes produced by their construction or renovation work. We offer temporary general waste dumpster rental services in Raleigh with the following dumpster sizes:
10-15 Cubic Yard Click to enlarge 10-15 Cubic Yard
20 Cubic Yard Click to enlarge 20 Cubic Yard
30 Cubic Yard Click to enlarge 30 Cubic Yard
40 Cubic Yard Click to enlarge 40 Cubic Yard
Our delivery of roll off dumpsters in Raleigh is from Monday to Friday. We deliver right away after you have taken your appointment and agreed on the terms. It's our primary goal to provide quick and easy dumpster rental services, both at delivery and pick up. Same day services are available at Raleigh Dumpster Rental King as we always want to serve you as fast as possible.
If you are looking for a same day dumpster delivery, please contact our Customer Service at 984-205-8064. Just keep in mind to avoid loading dumpsters above the rim to guarantee the safety of our drivers and the rest of the dumpster rental team.
General Waste Permanent Commercial Services
General waste permanent dumpster services are best for business owners looking for scheduled commercial dumpster services on a weekly basis. The following are the dumpster sizes available for rent:
2 Cubic Yard Click to enlarge 2 Cubic Yard
3 Cubic Yard Click to enlarge 3 Cubic Yard
4 Cubic Yard Click to enlarge 4 Cubic Yard
6 Cubic Yard Click to enlarge 6 Cubic Yard
8 Cubic Yard Click to enlarge 8 Cubic Yard
Renting commercial dumpster on a temporary basis is not available. But we have other options for you if you are want to dispose of small quantities of debris may be less than 10 cubic yards or you are seeking a temporary dumpster. We would be glad to answer all your concerns and inquiries.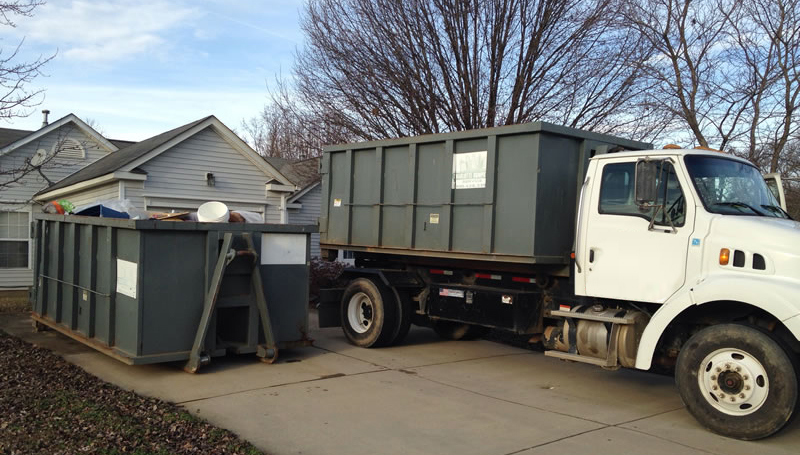 Construction & Demolition Temporary Roll Off Services
This type of service is ideal for small, medium or large contractors looking to dispose of various construction related debris on the construction site. Such services are accessible for the period of the job irrespective of the job length. Debris gathered in Construction & Demolition dumpsters in Raleigh, NC are recycled to the maximum amount possible with a diversion report obtainable upon request. Our dumpster sizes are the following:
10-15 Cubic Yard Click to enlarge 10-15 Cubic Yard
20 Cubic Yard Click to enlarge 20 Cubic Yard
30 Cubic Yard Click to enlarge 30 Cubic Yard
40 Cubic Yard Click to enlarge 40 Cubic Yard
Furthermore, we rent dumpsters for metal, asphalt, concrete and dirt along with regular construction debris. We suggest separating such trash from your regular waste stream to lessen the costs and take full advantage of recycling. Discounts are available in Raleigh, NC for metal dumpsters. We are always open to negotiations, for all our valued customers.
Dumpster rentals in Raleigh, North Carolina for bulky items such as concrete and asphalt may be restricted to a 10 cubic yard dumpster. This limitation is carried out because of the heavy nature of such debris and security guidelines imposed by local ordinances. We are always following the rules provided by local organizations and statutory laws.
Keep in mind that a permit might be required when renting a dumpster in Raleigh, depending on where exactly the dumpster will be dropped. But no worries, our staff will determine if this is the case or not. The local ordinance does not let dumpsters to be situated on public roads without a necessary license. We suggest for you to find a perfect area, a private property if possible so the dumpster you rent will be kept safe while your project is going on and you avoid any regulatory problem.
Our objective is to simplify and reorganize the dumpster ordering process allowing you to save your precious time and money. We have attained this goal by merging the comfort and accessibility of the internet to the waste collection industry.
We made it easy for you to set a booking of a dumpster rental over the phone. You need to provide all the necessary details regarding getting a suitable dumpster for your needs and the exact location where you want the dumpster to be delivered. Our dumpster is going to arrive on the date and location you will specify.
Dumpster Rentals Made Easy in Raleigh
One important detail you should know is that although we guarantee a speedy dumpster delivery, the availability of the containers may vary. Spring is often a peak season for our company and many contractors are encouraged to call us immediately to get a reservation.
Anyone can sign up for our service. Roll-off dumpster rentals are not just used for construction projects and home renovations, they can also be utilized to collect demolition wastes and debris. Dumpster boxes are also used in the landscaping industry. Therefore, it is our company's mission to cater to all the waste management needs of our customers. We have the container for your specific job that meets your budget.
Leave the waste removal work to us so that you can stay focused on the real contruction job you are trying to complete. Please note that weight limits and dumpster availability may vary due to the local regulations of Raleigh, North Carolina and surrounding counties. Special types of waste materials may also incur additional charges. Aside from renting out construction dumpsters, we offer other waste management services such as recycling services, household waste collection, trucking services, and small roll-off dumpster rentals.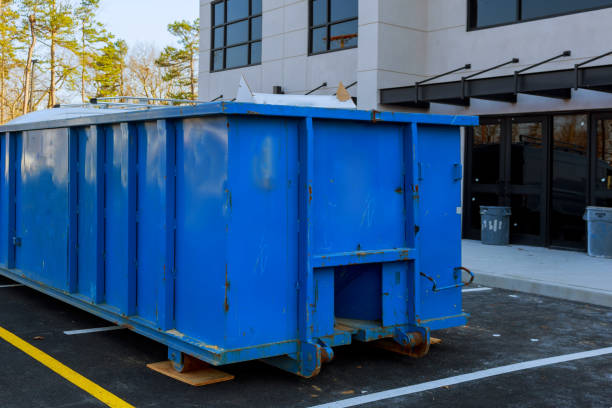 With our experience and specialized dumpster services, we guarantee our customers a fast and reliable service. We follow the stringent guidelines of the National Environment Protection Agency in disposing of and recycling the wastes we haul from your job site, most especially the hazardous wastes such as computers, batteries, and electronic devices. We are also fully committed to diverting as much waste from the landfills as possible by working with multiple recycling plants and donating our customers' junk that can still be used.
For more inquiries regarding our service, you may contact us at 984-205-8064. Our friendly staff will be delighted to take your call and to provide you with as much information as you need.
From a one-time service to a long-term rental contract, we are committed to helping you keep your waste under control whether it is for a construction project, a waste collection for an office building, or a home renovation. Call us now and we will assist you in the renting process.
We also provide services for the following cities which were near to the Raleigh: Cary, Apex, Duncan, New Hill, Wilsonville, Pittsboro, Durham, Clayton, Kenly, Lucama, Garner, Holly Springs, Rolesville, Margaret, Loisburg, Franklinton, Wilton, Butner.
Here is some of their corresponding zipcode: 27511, 27512, 27513, 27518, 27519, 27539, 27560, 27606, 27526, 27523, 27312, 27851, 27539, 27540, 27571.
✓ No hassle easy dumpster rental
✓ Servicing Raleigh, North Carolina
✓ Get a quote now, call 984-205-8064
✓ Customer friendly service
✓ Fast delivery and pickup
✓ Satisfaction guaranteed
Dumpster Sizes
Cleanup For Your Project – How To Figure Roll Off Container and Dumpster Sizes
If you're planning on doing any sort of home improvements, renovation or remodelling, getting rid of debris and junk is usually not your top priority. However, you will quickly learn that replacing the things you tear out with new ones is far simpler than getting rid of the old ones.
You will find that renting a roll off container is a more practical and affordable option than using the rubbish collection system specifically designed for residential usage to get rid of the building waste you need to get rid of. Roll off containers, or "roll offs" as they are more generally known in the industry, are similar to very big dumpsters that can be used only once and filled with any kind of waste. When you're done, the company that provided the roll off container will arrive and remove it along with the trash it contained.
Will a roll off container company work with me and how do I get the size I need?
When contemplating the necessity of a rolloff, this is the first thing many people ask. A common unit of measurement in the business world is the cubic yard. DIYers typically rent dumpsters in the 20 and 30-cubic-yard range, but sizes ranging from 10 to 40 cubic yards are also available.
However, when you interact with a representative from a roll off container company, you'll hear phrases like "20 yarder" and "30 yarder" thrown around. The sizes are expressed in this manner since it is the standard in the industry.
Having a rough size in mind before making the call is helpful. You can easily and quickly find out more about your needs and discuss buying a rolloff through this method. You should acquire the cost and any information or guidelines they have for restricted materials without having to ask a lot of fundamental inquiries.
A cubic yard is an area that is 3 feet long by 3 feet wide by 3 feet deep. To get some idea, compare the size you need to this imaginary small one car garage. Our imaginary small one car garage (comparable to sizes of storage rental units) is sized at 14 ft wide by 22 ft deep by 8 (usable) ft high. A small building of this size would contain 100 cubic yards of space.
The amount of debris and junk generated from the demolition or remodelling job should be taken into account when deciding on the right dumpster size.
10 yards are quite small and would probably only be adequate for a very small project such as redoing the flooring in a bathroom or very small room.
20 yarders start to become the size you might want to consider for other smaller projects. They contain the space comparable to going back only a little more than 4 ft into our imaginary garage. But if you don't have a lot of sheet rock or lumber to get rid of, this is a good starting size.
30 yarders start to get big enough to handle a larger project such as changing a wall or tearing out cabinets in rooms larger than bathrooms.
And if you really need more space, a 40 yarder will give it to you. This would be like having the room to fill up our imaginary small garage nearly halfway full to the roof with debris.


Finally, don't wait until the last minute, or you risk getting a rolloff that's too little to handle your junk.
If you are in doubt, go to the next larger size. It always seems that there is more to throw away than you think of. If you overestimate the size and still have room remaining when you finish your project, you can still be pleased knowing you didn't run out of room and have no need for extra dumps and additional charges. Then look around and get rid of any other long lost trash or debris that would be hard to get rid of in any other way.
Making it simple to get rid of waste is a key component of any well-planned construction project. When you're done, call the dumpster service and they'll come pick up the container. You've made the right choice.
Please call 984-205-8064 if you have any questions about the appropriate dumpster size for your project or where to locate a local supplier of roll off dumpsters.
✓ No hassle easy dumpster rental
✓ Servicing Raleigh, North Carolina
✓ Get a quote now, call 984-205-8064
✓ Customer friendly service
✓ Fast delivery and pickup
✓ Satisfaction guaranteed
Thank you for visiting Raleigh Dumpster Rental King.
Call 984-205-8064 now to order your dumpster in Raleigh, North Carolina today!