Welcome to Raleigh Dumpster Rental King – the best dumpster rental service provider in Apex, North Carolina.
We take pride in giving quality dumpster rental services to all residents of Apex and the neighboring cities at a reasonable cost. We are driven by our ultimate goal of providing excellent service to our customers, so that waste removal is a no hassle job for them. We always go the extra mile as we want to make sure everyone is pleased with the quality of our cleaning services.
We aimed to provide affordable, trustworthy and useful dumpster rental services in Apex, NC. Our services in Apex are available for homeowners, businesses and contractors on a temporary or permanent basis.
Here are the types of dumpster rental services that we provide:
General Waste Temporary Roll Off Services
General waste temporary dumpster rentals are perfect if you are looking for disposal of a large amount of debris in a short time. Many clients who are seeking services are homeowners who are cleaning up their homes and yards or renovating their house. This type of service is also helpful for contractors disposing of the wastes produced by their construction or renovation work. We offer temporary general waste dumpster rental services in Apex with the following dumpster sizes:
10-15 Cubic Yard Click to enlarge 10-15 Cubic Yard
20 Cubic Yard Click to enlarge 20 Cubic Yard
30 Cubic Yard Click to enlarge 30 Cubic Yard
40 Cubic Yard Click to enlarge 40 Cubic Yard

Our delivery of roll off dumpsters in Apex is from Monday to Friday. We deliver right away after you have taken your appointment and agreed on the terms. It's our primary goal to provide quick and easy dumpster rental services, both at delivery and pick up. Same day services are available at Raleigh Dumpster Rental King as we always want to serve you as fast as possible.
If you are looking for a same day dumpster delivery, please contact our Customer Service at 984-205-8064. Just keep in mind to avoid loading dumpsters above the rim to guarantee the safety of our drivers and the rest of the dumpster rental team.
General Waste Permanent Commercial Services
General waste permanent dumpster services are best for business owners looking for scheduled commercial dumpster services on a weekly basis. The following are the dumpster sizes available for rent:
2 Cubic Yard Click to enlarge 2 Cubic Yard
3 Cubic Yard Click to enlarge 3 Cubic Yard
4 Cubic Yard Click to enlarge 4 Cubic Yard
6 Cubic Yard Click to enlarge 6 Cubic Yard
8 Cubic Yard Click to enlarge 8 Cubic Yard
Renting commercial dumpster on a temporary basis is not available. But we have other options for you if you are want to dispose of small quantities of debris may be less than 10 cubic yards or you are seeking a temporary dumpster. We would be glad to answer all your concerns and inquiries.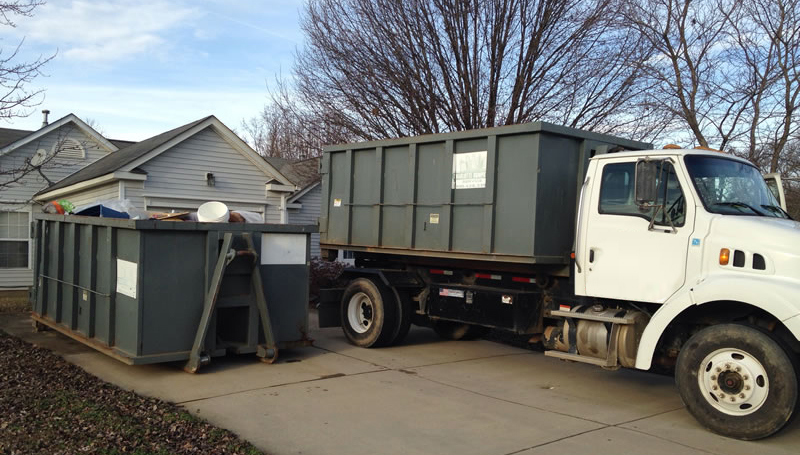 Construction & Demolition Temporary Roll Off Services
This type of service is ideal for small, medium or large contractors looking to dispose of various construction related debris on the construction site. Such services are accessible for the period of the job irrespective of the job length. Debris gathered in Construction & Demolition dumpsters in Apex, NC are recycled to the maximum amount possible with a diversion report obtainable upon request. Our dumpster sizes are the following:
10-15 Cubic Yard Click to enlarge 10-15 Cubic Yard
20 Cubic Yard Click to enlarge 20 Cubic Yard
30 Cubic Yard Click to enlarge 30 Cubic Yard
40 Cubic Yard Click to enlarge 40 Cubic Yard
Furthermore, we rent dumpsters for metal, asphalt, concrete and dirt along with regular construction debris. We suggest separating such trash from your regular waste stream to lessen the costs and take full advantage of recycling. Discounts are available in Apex, NC for metal dumpsters. We are always open to negotiations, for all our valued customers.
Dumpster rentals in Apex, North Carolina for bulky items such as concrete and asphalt may be restricted to a 10 cubic yard dumpster. This limitation is carried out because of the heavy nature of such debris and security guidelines imposed by local ordinances. We are always following the rules provided by the local organizations and statutory laws.
Keep in mind that a permit might be required when renting a dumpster in Apex, depending on where exactly the dumpster will be dropped. But no worries, our staff will determine if this is the case or not. The local ordinance does not let dumpsters to be situated on public roads without a necessary license. We suggest for you to find a perfect area, a private property if possible so the dumpster you rent will be kept safe while your project is going on and you avoid any regulatory problem.
Our objective is to simplify and reorganize the dumpster ordering process allowing you to save your precious time and money. We have attained this goal by merging the comfort and accessibility of the internet to the waste collection industry.
We made it easy for you to set a booking of a dumpster rental over the phone. You need to provide all the necessary details regarding getting a suitable dumpster for your needs and the exact location where you want the dumpster to be delivered. Our dumpster is going to arrive on the date and location you will specify.
Thank you for visiting Raleigh Dumpster Rental King.
Call 984-205-8064 now to order your dumpster in Apex, North Carolina today!